Henry not finished yet with national record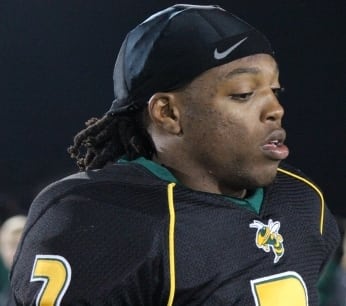 YULEE, Fla. --
Derrick Henry
stood on the field and looked around, as a King would survey his kingdom.
This is Henry's kingdom -- the national all-time leading rusher owns the record after a blistering 52-yard touchdown run in the second quarter to give his Yulee Hornets a 14-7 lead en route to a 41-26 win over Perry (Fla.) Taylor County.
The win takes Yulee into the regional finals against Havana (Fla.) East Gadsden, a 47-7 winner over Callahan (Fla.) West Nassau in the Class 4A FHSAA playoffs.
Henry carried the ball 58 times, scored six times and racked up 482 yards.
Henry now has 11,610 career yards, surpassing the 59-year-old mark held by Sugarland (Tex.) High School's Ken Hall, who had 11,232.
"This is our team's record," Henry said in the post-game gathering. "We worked all summer long for this. We did it - not me - we."
Taylor County might disagree with the 'not me' part. It seemed the Bulldogs found tackling Henry akin to grabbing a greased pig. A very big greased pig.
"That's a special young man right there," said first-year Bulldog coach Ryan Smith. "That's the best athlete I've ever seen. He's unbelievable."
Henry broke Hall's nearly 60 year-old record on his 13th carry of the night. It capped a 94 yard drive that kept the Bulldogs from taking the lead with a goal line stand.
"My line did a great job," Henry said. "Once I saw the crease I hit it. Gave a little stiff-arm and I was off to the races."
That stiff arm is something defenses for four years have been watching. Henry's 6-3 frame, and long reach, makes the stiff-arm highly effective - especially when going against shorter defensive backs in the secondary.
"I don't think he had a single carry where one guy tackled him," said Smith "He just would not go down."
After the game, Henry reflected on his conversations with the 'Sugarland Express' - a nickname given Hall by a sportswriter in the 50's.
"I talked to him (Hall) on Thursday and I asked him how he got 520 yards on 11 carries and it took me 45 to get 502," said a smiling Henry. "He said in the second quarter 'he was done'. I was like - wow."
Henry set a Florida state record for most yards in a single game (502) Sept. 21 against Jacksonville (Fla.) Andrew Jackson.
"My line does its job very well," Henry said. "They get me the hole and I just go through it. We've been working all summer. Working hard all summer to perfect this offense."
Taylor County wouldn't quit. Which led to more carries for Henry - and more yards.
The fact that Henry finished with 482 yards - just 20 yards shy of his own state record of 502 set earlier in the year - is not difficult to believe, given his number of carries.
Henry averages 30+ carries a ball game and has carried it as much as 60 times in a game.
"I just thank God for putting me in this position," said Henry. "I feel so blessed to be where I am and have this opportunity."
The
Alabama
-commit spent last weekend in Tuscaloosa, Ala. watching the Crimson Tide - with none other than the No. 1 offensive linemen in the country -
Laremy Tunsil
of Lake City Columbia.
"I want him to come with me (to Alabama)," said Henry. "(Tunsil) is the number one offensive lineman in the country. I've known him since my sophomore year."
"We keep in touch every day," Henry said of Tunsil - who remains very tight-lipped about his future. "I'm going to keep on pushing and bring him with me to Tuscaloosa."
Henry also reminded his teammates about next week's opponent, the Jaguars of East Gadsden.
"We played them last year and they put us out of the playoffs," Henry said. "We haven't forgotten that."
After the game, Henry led the team in a post-game discussion about what's next.
"We are not done yet ya'll," Henry shouted. "We are still here!"
[rl]