In the trenches: What does redshirt really mean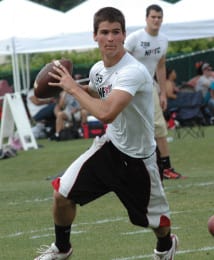 Micah Grimes is a former all-state high school prospect who earned multiple college football scholarships. He recently completed his degree and will be writing a blog for FlaVarsity that provides helpful information to guide potential prospects through the crazy and relentless world of recruiting. In this installment, he helps prospects and parents understand the recruiting process.
In 2007, I walked onto the campus of Troy University ready to take a position on the offensive line whatever way possible. I had the confidence in myself and the bravado to boot. I was inexperienced, but I had heart and drive.
I went through summer workouts, got in as good shape as possible, and prepared my mind for the rigors of the camp ahead that August. I tried to learn my plays ahead of time. Some came quickly, some I didn't get down until a year or more later.
Seems that the number system for left and right for the Power player is a lot tougher to remember than I would have liked to let on. It was a recurring mishap that plagued my mind because I knew 27 was left and 28 was right. Yet, when the play was called, my body would turn left or right, and I'd run smack into the other pulling guard.
It was embarrassing, at least.
Through it all, I had made the "travel squad", the lucky few who travel to away games, for the opening game of the 2007 season at Arkansas. That was until game-week when it was decided that I would redshirt.
It was tough to accept a redshirt, as I knew I would not be playing in a real game until at least that next fall. That's hard to accept as a competitor and someone who's played in every game since their sophomore year, much like most recruits coming into college.
But, I soon came to realize that my coaches knew I needed time to develop my body, and I used my redshirt season to build more muscle, get in even better shape, and get used to living the college football life.
What Makes Me A Redshirt?
A "redshirt" is a player who is designated to sit out a year in order to play another year down the road. Often, this practice is used on freshmen coming into college needing more time to develop, a junior college transfer that has potential, or more rarely, an injured player early in the season.
For example, if you are redshirted as a freshman, this is how your five years breaks down:
Year 1 - Redshirt - You can do all team activities such as practices, workouts, travel, dress, and meetings. You cannot play in games.
Year 2- Redshirt Freshman - Technically you are a freshman now, according to the NCAA. You will be referred to as a freshman from here on out, even though you've been with the team as a college freshman for one year already. You are free to be a full-fledged member of the team and play in all games.
Year 3 - 5 - You will be denoted as "Redshirt" followed by your class according to the NCAA. You may graduate in your 4th year of school, but you will still be referred to as a "Redshirt" Senior in your 5th year of play.
In the Football Championship Subdivision, you are allowed five years to play four years from your first collegiate practice. If you do not redshirt, you have only four years to play four years.
For example:
Redshirt - 5 Years With Team = Play 4 Years
No Redshirt - 4 Years With Team = Play 4 years
Either way, you are only allowed four years to actually play in games for your school.
Next week, I will delve into the pros and cons of redshirting and talk about the powers you do and do not have in the redshirting decision process
About Micah
:
Micah Grimes
was a Fort Meade (Fla.) 2007 offensive line prospect. His team won a state championship in 2004 and was state runner up in 2005. He was named first team All-State as a junior and senior. His performance on the field and in the classroom led him to scholarship offers from the likes of UCF, South Florida, Iowa State and Maryland, but eventually committed and played for the Troy Trojans.
He recently graduated cum laude in three years with a degree in Broadcast Journalism. He hopes to use his experience to help mentor future prospects. He is currently Troy University's designate for the Rhodes Scholarship candidacy for the upcoming year.
Past Blogs