Showdown in O'Town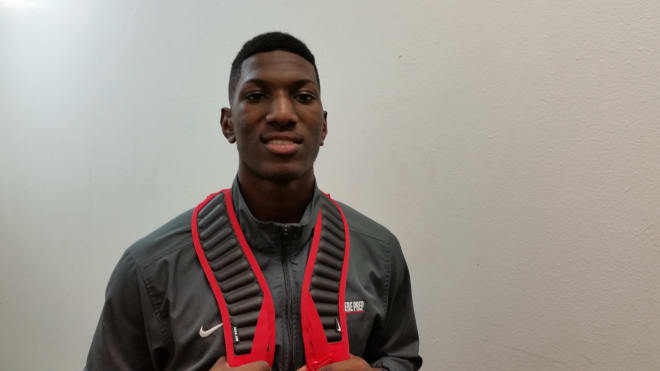 The Showdown in O'Town, presented by OHoops Training, is an annual Public vs. Private event held at Orlando Christian Prep. The event provides an evaluation opportunity for a number of Florida's talented players and featured teams that will contend for state championships next month. The highest ranked player in attendance, 2017 The First Academy shooting guard Chaundee Brown headlined a list of top performers from the event, but an upperclassman had the top performance.
John Mooney, power forward, Lake Brantley 2016: The Notre Dame bound Mooney played all five positions and, in the best performance of the day, had 30 points, 10 rebounds and three blocks in a win over host team Orlando Christian Prep. To keep the three-star prospect from being double teamed in the post the Lake Brantley coaches moved Mooney out to the perimeter at times and even had him play point-forward in half court sets using teammates to set ball screens for him. Mooney, who surpassed 1,600 career points, should definitely be in the conversation for Mr. Basketball in the state of Florida.
Recruiting wrap: Decommitted from Florida in August, then committed to Notre Dame in September following an official visit there.
Xion Golding, shooting guard Windermere Prep 2017: Golding had his jump shot dialed in early to the tune of making 5-of-7 three-point attempts in the first quarter. Though he cooled down from there, he did finish with with 22 points, nine rebounds and two assists. Golding knocked down shots off the catch and used his upper body strength to get to the basket.
Recruiting wrap: Holds an offer from Indiana State and interest from Florida International and Stetson.
Malik William power forward, The First Academy 2017: William added some scoring punch, including a three-pointer, to his rebounding and shot blocking ability against Osceola. The 6-foot-8 forward was one blocked shot shy of a triple-double in a 16 point, 12 rebound, nine block, two steal and two assist day. All of William's rebounds were on the defensive glass. When he is fully engaged William can be pretty good.
Recruiting wrap: Holds offers from Connecticut, Northern Arizona and UCF with interest from Clemson, Florida, Georgia, Miami and UAB. William took an unofficial visit to Clemson on January 10.
Jasen West, point guard Trinity Prep 2018: This was our first look at West in a high school game and he did not disappoint. At 5-foot-11, 150 pounds sees the floor well and made the right pass. West played under control even while pushing tempo and under defensive pressure. He is a playmaker who creates for his teammates as well as himself. Although he has a thin frame, West will not hesitate to attack the rim and challenge bigger defenders. He also has range beyond the arc on his jump shot. West used good anticipation on defense getting into passing lanes and disrupted several passes due to his long arms. Two of his four steals came on bounce passes. For the day West had 18 points, four steals, three rebounds and two assists in a win over Boone.
Recruiting wrap: Listed no offers at this time but UCF is monitoring him and he has received letters from Davidson.
Cameron Corcoran combo guard, Orlando Christian Prep 2016: Corcoran was in attack mode against Lake Brantley and it worked to his benefit opening up the floor for him to get his jump shot off. When Corcoran wasn't scoring at the rim or on jumpers, he was hitting 5-of-7 free throws. Has low major Division I potential, Corcoran finished with 27 points, two steals, one rebound and one assist.
David Nickelberry guard Windermere Prep 2017: It is difficult to pigeon hole Nickelberry into a position, he's just that versatile. He has the athleticism, ball handling skills, passing and shooting ability to play all three perimeter positions; but might be best as a combo guard. Nickelberry plays with a high basketball IQ and seems to always make the right pass or play. He finished with 13 points, nine rebounds and six assists.
Recruiting wrap: Holds offers from Florida International, George Mason, Memphis, Miami, Murray State, Stephen F. Austin, Stetson, Tulane and UCF; he has plenty of high major interest.
Chaundee Brown shooting guard, The First Academy 2017: Brown suffered a hip injury the week before this event and played sparingly. At times he limped noticeably but showed his mental toughness while playing through the pain. A physically strong shooting guard, Brown continues to work on expanding his skills beyond the power guard skills he has. Brown finished with nine points, three rebounds and three assists in about 15 minutes of playing time.
Recruiting wrap: holds offers from Connecticut, Florida, Georgia, LSU, Northern Arizona, Texas Tech, UAB, UCF, USC and Wake Forest; he is receiving interest from several other high major programs.
Damon Harge, Jr, point guard, Orlando Christian Prep 2018: Harge has arguably the best handles in his class. Harge runs the screen-and-roll well and is becoming a better scorer as he adds strength. He has excellent court vision and is a superior passer. His defense is improving but needs to cut back on fouls committed. Harge is making the transition from mixtape sensation to a more well rounded basketball player but, make no mistake, he still has some wiggle to his game.
Recruiting wrap: Holds offers from DePaul, Memphis and North Carolina Central. Interest from Louisville.
Arlen Bockhorn, shooting guard, Lake Highland Prep 2016: A dangerous shooter with range, Bockhorn is not a one dimensional player. He plays with a high motor and is willing to mix it up defensively grabbing rebounds away from bigger players and diving on the floor for loose balls. Bockhorn had 23 points in a win over Dr. Phillips.
Nick Honor, point guard, Lake Highland Prep 2018: Honor has good speed and quickness and is able to get the ball deep into the paint almost at will. He has a strong frame which allows him to finish through contact at the rim or take the bump and get to the free throw line. Honor had 22 points in a win over Dr. Phillips.
Recruiting wrap: Receiving interest from North Florida.
Private schools went 4-1 in this year's Showdown in O-Town.
Russ Wood is a contributing national basketball recruiting analyst for Rivals.com click here to follow him on Twitter